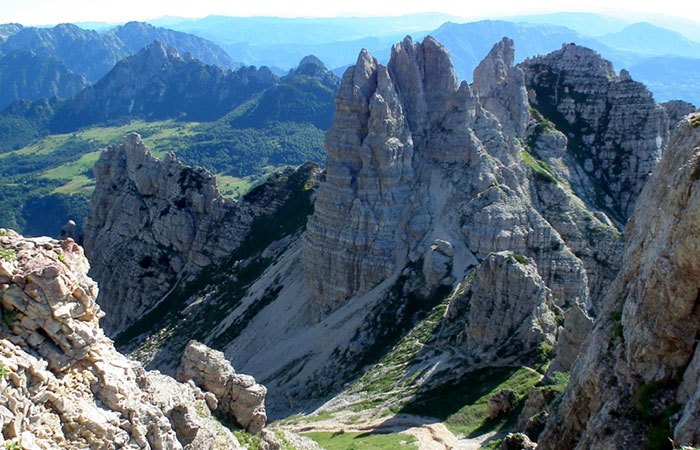 Hiking and horse back riding, mountain bike trekking, Nordic walking, mountain climbing and hand gliding. Breath taking downhill skiing, cross country skiing circuits, hiking with snow shoes. These are just a few of the sports that the Small Dolomites can offer thanks to unique natural settings.
In the entire territory the CENTRO SERVIZI LE GUIDE based in Recoaro Terme, services to guiding excursionist for years. The group is formed both by certified guides and professional accompaniers that have a profound familiarity of the area and of the trails in order to provide a series of high quality services. A garantee of a pleasurable and safe vacation.  www.csleguide.it

Thanks to the collaboration with Piccole Dolomiti E-Bike we book guided tours with E-Bike, with specialized guides who will accompany you through our valleys to discover the splendid mountain scenery that surrounds us.

Sisilla route Campogrosso
Short, steep, short climb to the summit overlooking Campogrosso.
The view, if there is a clear day, it is really great.
On the summit, waiting, a Madonna, who observes the very broad view of the hills and the plain of Vicenza.
A small path around the large wall and allows you to easily climb to the top and towards the Campogrosso turns a beautiful wall of a hundred meters, just what you need to consider a comfortable climbing. The environment and the very typical and particular of the 'Little Dolomites'.
The Sisilla known as 'gym' since the post-war period by the strong climbers school Vicenza (Carlesso, Soldà, Sandri, and companions …).
From the top, the view extends to infinity: you can admire the Asiago Plateau, the plain towards Vicenza and Thiene, Recoaro Mille, all Carega group and the Refuge Campogrosso. In the days of clear sky particolarmete from the mountains you can see the blue of the sea!